I have a problem. I'll admit it. I have a thing about subscription services. I love the idea that you can get something sent to you every month; something that you would probably go out and buy on your own anyway. I love the "hassle free"-ness of subscription services…that and the fact that it's like getting a surprise once a month.
I recognize that I might need to curb my problem, and one day I probably will. For now, we can turn my problem into valuable information for you. I've included a list of all of my subscription services and what I think of them. I definitely think you should try some of these out.
For the record, I have no affiliate partners and absolutely no one is paying me or giving me anything to review any of these services. Also, all of the images below come from the associated websites.
I don't have this subscription anymore. I had it for one year and after that, I had so many beauty samples that I ran out of room for them. I liked this subscription because I found some new products that I really love. Although, I don't buy the full-size versions from Birchbox. I can get them off of Amazon for the same price but with free shipping. Birchbox was neat while I had it, but it's not something I miss too terribly.
Jake and I have a combined MeUndies subscription, so we get two pairs of underwear sent to us each month – one for him and one for me. There's always a fun pattern and they always match (I know…we're adorable). I love these underwear. They're so soft and comfy. However, they are expensive as far as underwear goes, so if you don't absolutely love them then don't spend the money.
Stitch Fix is an online shopping subscription…sort of. I filled out an extensive survey that included questions about my personal style, my body type, and a place to link a Pinterest board and a photo of myself. Stitch Fix uses that information to send me a box of clothing each month. They include 5 items in each box, and if I want something specific I just tell them before they ship the box. Once I get the clothes I have 3 days to try them on and decide if I want to keep them or not. I only pay for what I keep, and sending back what I don't like doesn't cost me anything because they send me a postmarked bag that I can put in my mailbox for my mail carrier to pick up.
I love the personal stylist aspect of this subscription. They really do check my Pinterest style board and try to send me things that they know I will like. When I asked for jeans, they sent me a perfect pair. When I asked for a fun sundress, they sent me an adorable, scallop hemmed, navy blue dress that is versatile enough to be dressed up or dressed down. It's fun to open up the box each month and see what they send me. Also, you don't have to get a box every month. You can get one every other month, or every 3 months, or even every week if you want. There's no commitment and you can cancel anytime.
The clothing is moderately priced, and so far it's held up well. The downside to this subscription is that if you don't like anything in your box, you have to pay them $20 for shipping. As long as you keep at least one thing, they waive the shipping fee, but if you don't like any of it, it's going to cost you $20.
Jake and I have been using Blue Apron for a long time. We both listen to a lot of podcasts that advertised it so we gave it a try. We both love it. I love the fact that on Blue Apron weeks, I don't have to go grocery shopping or do any meal planning. Jake loves trying out new and different recipes. They'll cater to almost any dietary preference or restriction, too, which is nice. We have a friend who uses Hello Fresh and he sent us a free box and it's just as good as Blue Apron. The prices are pretty similar, so either one of these services is great. Hello Fresh requires you to have more ingredients on your own, so that's a downside. They sent us a pancakes recipe once and sent no syrup. Thankfully we had some. However, Hello Fresh allows you to choose a breakfast option and Blue Apron does not. (Although I'm still bitter about the pancakes and no syrup thing. Why in the world would you not send syrup with pancakes?)
As far as cost goes, it doesn't really save me any money, but it doesn't cost extra either as long as I don't grocery shop the week I get a Blue Apron meal – which I don't have to do because Blue Apron sends me everything I need. As a replacement for grocery shopping and meal planning, it is a wash as far as money is concerned.
Also, there are only two of us. I don't know how practical this would be for a large family. I think the cost would get too high to make it worth it. Plus, if you enjoy having a little fun creating your own recipes (in other words, if you are a good chef) then this may not be as fun for you.
Jake got this subscription for me because he thought I would like it. It was originally geared towards men, but my husband doesn't shave. He has a ginger-colored beard that's sexy as hell, so shaving is not a necessity for him.
Anyway, this is a really cheap subscription that sends you 4 replacement razors every month. You can change out your razor every week if you want to, and the razors are great quality. They have other things you can add to your subscription if you're interested: shave butter, aftershave, soap, etc.
For the price, I really think this one is worth it. Especially if you, like me, always forget when you need a new razor and so you keep giving yourself razor burn with the dull one until your skin just can't take it anymore and you spend the summer pretending to "go natural" as you grow hair that makes you resemble a small wooly mammoth.
This is a new subscription for me. Lola is a tampon company founded and owned by two women who were tired of the lack of options in the tampon market. The price is fair, no more or less than most tampon brands out there. What I like about it is that the tampons are sent to you every month, or every other month, or just whenever you need them. But you can set it up to be automatic, so you can avoid that almost inevitable "first day of my period and I forgot to get tampons" thing that leaves you unpleasantly surprised when Aunt Flo comes to visit and you've got nothing but that one random tampon that you found squashed in the bottom of your purse. Don't worry, Lola's got your back. They also allow you to choose the tampon sizes in each box. For example, if you have a super heavy flow for the first day or two, then it slows down steadily the rest of the week, you can get a box with 3 or 4 super tampons, 9 or 10 regulars, and 3 or 4 lights. You personalize your box to your flow. It's a pretty awesome idea.
So far, I've gone through one "lady" cycle with them and I have no complaints. They don't leak and they do their job.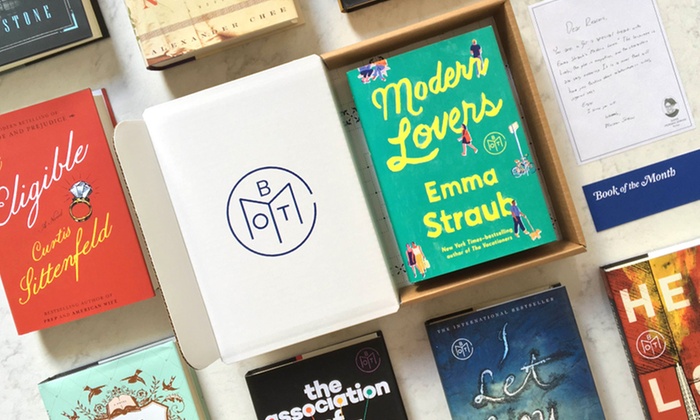 I saved the best for last. I love my BOTM subscription. This one is obviously for bibliophiles only. You do have to make a commitment for this one by choosing a 3, 6, or 12 month subscription, and it will automatically renew if you don't cancel it in time. The monthly price goes down the longer your subscription is. For the 12 month one, it's only $11 a month, but you're billed for all 12 months up front.
On the first day of every month, they send you an email with 5 book options. You choose the one you want (you can add others but it'll cost you more) and they send you a nice hardcover book in the next week or so. The good news is, if none of the 5 options look good to you, you can skip that month and they'll just tack another month on to the end of your subscription to make up for the one you skipped.
I love books, so I'm all over it. I love the opportunity it gives me to check out some books I might not come across on my own. This is how I came across the book Pachinko that I read for my "story of an immigrant" in the 2017 Reading Challenge. It was incredible. I highly recommend it.
What subscription services do you use? Do you have any suggestions for me to try?